You have either ordered the OEM replacement or aftermarket table adapters (clips) and you are ready to install them.
You should have received:
4 – m4 x 18mm screws
4 – m4 washers
4 – m4 nuts
4 – Adapters (clips)
1 – nut insert tool
Much like the original accessory, this installs on the underside of the spare tire cover. You simply remove it and flip it over to show the anchor points. Assuming you did not have the original kit, you will find 4 mounting points near the inside corners of the cover.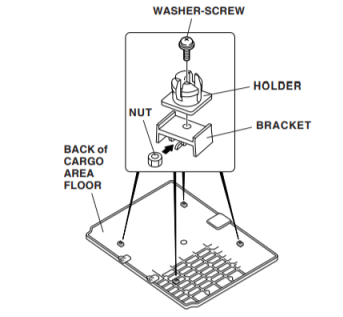 Notice in the illustration above that the supplied nut needs to slide under the bracket. I have provided a tool to make that part easier. Just place the nut on the tool and align it with the factory hole. Orientation of the adapters wont completely matter with the reproduction of the OEM clips. However, I did design them to align flush with the design of the cover. If you are installing the aftermarket adapters orientation will matter. You should be supplied with 2 versions of the clips, one is just a mirror of the other. Because the legs are slightly offset the mounting point is not perfectly center where the adapter secures to the cover. When you align the aftermarket adapters you want the protruding portion to be closest to the center of the cover. I have included a video that should make it much easier to understand.
I have been told that many of us have warped covers as we haul things and our Elements age.  If this is true, the legs may be difficult to attach.  We have found that connecting them on the flat surface while stepping on the center (to correct the warp) will allow the legs to connect.
I should also mention currently Walmart has the preferred legs on sale for 28 dollars.  This price is obviously subject to change.  Sometimes amazon.com carries the legs too, currently they only sell them through 3rd party vendors (and that is always a pain, I don't recommend using amazon at this time.).