There are so many creations on Thingiverse, and still you may not have that perfect model that's an exact fit for your needs.  What you can do is grab the STL file and modify it in your 3D modeling software.  My software of choice is SketchUp.  I get by just fine using the free version.  If I were making any money with my models, I would have to upgrade to Pro.  Otherwise, I have yet to run into any real limitations.
Modifying existing drawings is a great way to get a head start on your designs or just improve existing designs for your benefit.  Please be sure to give credit where credit is due and respect the model's license agreement.
In my example I modified a headphone hook.  This persons file was simple and perfect for my needs, except I needed to adapt it to my desks thickness.
Before you begin, I will assume you have already donloaded and installed Sketchup.  If not, do that now.  You can grab it from SketchUp.com.  It's available for Mac OS and Windows computers.  Once you have that installed you need to get one additional plugin.  This will give you the ability to import and export STL files.  You can download that from here: https://extensions.sketchup.com/en/content/sketchup-stl.
In order to download this plugin (or extension) you will need to authenticate with your Google account.  If you don't have a Google account you will need to create one.  Once you authenticate and download this sketchup-stl extension you can install it under Window > Preferences > Extensions> Install Extension…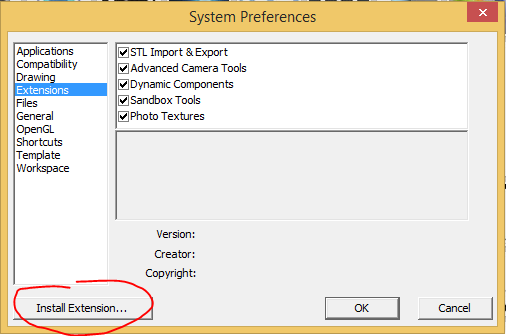 First you need to download the STL that you are wanting to modify.
Open SketchUp to an appropriate template (millimeters for me)
Import your newly downloaded STL file.  File > Import…
Change the file type to STL (STereo Lithography Files)
Click Options, Check both boxes and Select Millimeters


Select STL, Click Options and Open your File

Check both boxes and select millimeters.




Inspect your file for any defects, and fix problems.
Stretch or modify your file.
Export newly created STL and compare in Slic3r.
Here is the finished product: